"Sustainability is the new Computer Science"
Every month we bring you a roundup that will help you be your boldest, most creative self, and embrace changes that make you shine.
"Sustainability is the new Computer Science": These words from Daniel Ahn at Clearvision Ventures rang in my ears during my recent exploration at Stanford's Doerr School of Sustainability.
Against the backdrop of news reports and Tweets (Xeets?) about the hottest July on record, I saw firsthand how our world is at a transformative juncture while walking around the University campus.
From the groundbreaking Stanford University Central Energy Facility to the integrated curriculum at the intersection of climate x tech x business x sustainability, this isn't just about new risks but enormous opportunities.
And, yes, as Founders, we need resilience and a sustainability mindset. And that starts with focusing on the power of adaptation through hope.
Keep reading for a spotlight on success, exciting details on our new in-person event, July's most popular resources, quizzes, and how to work together.
---
🌟 Spotlight on Success: Nicola Stewart 🌟
Join us in celebrating Nicola Stewart, Founder of Mint Modern.
Nicola is a shining example of growth, determination, and innovation within our community.
Nicola embarked on her journey with Inspiration Space via our New Beginnings program in February 2022 and continued flourishing through Build.
Guided by a mentorship with Liana Fricker, she's boosted her confidence and self-worth, leading her to redefine her pricing strategy and ideal client.
She successfully navigated new territories, staying ahead of technology by future-proofing against AI and adapting her business niche.
In just 12 months, her tenacity has not only resulted in a 120% growth in revenue and her best financial year ever, but has also fostered vital partnerships in Food & Drink and Travel & Tourism, expanded her network while committing to the planet with a Carbon Literacy Certification.
Nicola never stops learning, always seeking knowledge and ways to improve.
Always contributing a steady stream of insights, trends, tips and tools to the Inspiration Space community, let's give Nicola her flowers 💐.
---
📅 Upcoming Events & Opportunities
We're launching People, Planet, Pastry in Guildford this September.
This monthly event offers a no-judgment zone for Founders, entrepreneurs, and business owners to network, share ideas and strategies for local climate action.
Join us for the inaugural gathering on September 4th, from 10 AM - 11:30 AM at Solar Sisters Cafe, founded in 2021 by siblings Lucy and Nina.
This is an open invitation and the event is FREE to attend. Simply RSVP via Eventbrite and we'll see you there.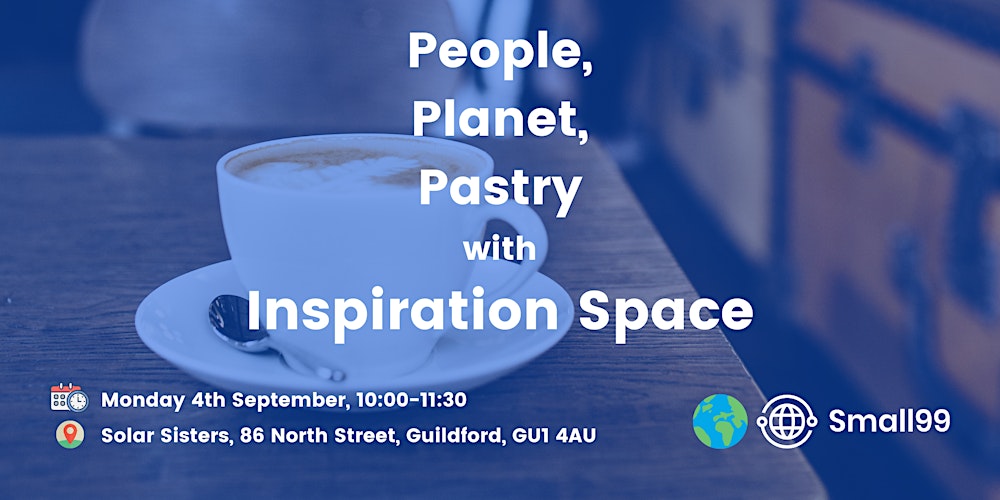 ---
As part of our mastermind program Build, we're introducing an 8-week training led by Positive Intelligence®️ (PQ) Coach Caroline Kay.
Starting September 2nd, this training is your catalyst for achieving consistency and boosting sales.
Positive Intelligence (PQ), developed by Shirzad Chamine, is more than a buzzword—it's a revolution in mental fitness.
Within just six weeks, the Positive Intelligence Program has shown:
90% reported more effective use of mental energy
76% improved developmental abilities
85% experienced increased happiness
Discover how Positive Intelligence will supercharge your productivity...
---
🚀 Accelerate My Business
Expert advice, bitesize lessons and inspiring stories are how we keep you moving forward.  Let's accelerate your business together.
Discover 50 power words that you can use to inspire your customers to action.
Taking control of our personal finances doesn't have to feel overwhelming. Here are six things you can do to change how you think about money.
Our Carbon Literacy Scorecard empowers entrepreneurs, startups, and small businesses to pinpoint and manage their climate-related risks.
Take control of your environmental impact with insights and practical resources.
---
Sustainability News: In Case You Missed It...
Fashion brand goes circular; Find out your sustainability blind spots; Access our FREE mini-course; and more...
---
What we're talking about in Inspiration Space 💬
On Instagram we have been discussing what to do when your Facebook page gets hacked. Learn what saved our asses in 90-seconds with Jayne. We shared our live climate action plan - take a look for inspiration.  You can see our latest affirmations for words of encouragement.
And if you have five minutes, we'd appreciate your feedback on our latest campaign - this helps us improve and practice what we preach.