Celebrate Friendsgiving and Support a Good Cause
This is an event you won't want to miss. Secure your place now and spread the word.
Mark your calendars for a heartwarming and uplifting event! Faith Lyon, an entrepreneur with a vision, is hosting a Friendsgiving fundraiser on the 26th of November.
This event aims to kickstart Faith's new startup, Family Friendly Guides.
The gathering is conveniently located near the new Young V&A, offering a full day of activities for all who attend.
What to Expect
If you enjoy good food, this event is for you. The fundraiser will feature a tasty turkey and nut roast lunch. And if that's not enough, there will be a bake sale with pies and cookies to satisfy your sweet cravings.
More Than Just a Meal
If you're looking to make a day of it, the new Young V&A museum is just around the corner. It's a great way to take in some culture and make your Friendsgiving experience even better.
About Family Friendly Guides
Family Friendly Guides (FFG) is a startup that aims to make life easier and more enjoyable for families. FFG believes that dining out with loved ones should be a fun and stress-free experience.
With this in mind, Family Friendly Guides is building a community where parents, caregivers, and other family members can share their favourite dining spots and easily find places that cater to their needs.
Whether you're a parent of a baby needing changing facilities, or you have older kids looking for a children's menu, this community-driven guide will make it simpler to find just the right spot.
How to Get Involved
Participating in this Friendsgiving fundraiser means more than just enjoying good food and company. It also offers a chance to support Faith Lyon and her innovative Family Friendly Guides.
For more details and to buy tickets for the event, use the link below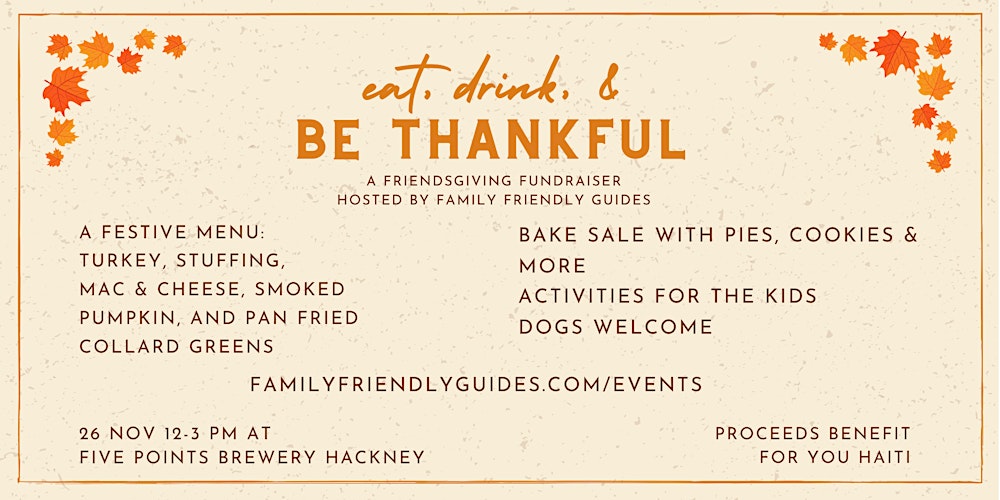 Don't hesitate to invite your family, friends, and neighbours. As Faith wisely says, "The more, the merrier!"